Does SmartHeart® have regulatory clearance from the FDA?
Yes, SmartHeart is an FDA-cleared prescription device for use in the United States.  It is FDA cleared as a 12-lead ECG.
Is SmartHeart® designed for both men and women of varying body sizes?
Yes, SmartHeart is suitable for both men and women to use. The ECG device comes with a belt that fits a range of sizes to ensure maximum comfort for all body types.
How quickly will I get my ECG results?
A fully interpreted clinical report will be ready in about 30 minutes and sent directly to the SmartHeart Pro mobile application on your smartphone or tablet.
What should I do with my ECG results?
A board-certified cardiologist will review your ECG through the SmartHeart platform.
Your fully-interpreted results will appear as an in-app alert in ~30 minutes.
A green alert indicates no urgent findings. 
A yellow alert indicates new ECG findings that require additional medical history information and further analysis by a physician.
A red alert requires urgent action and indicates you may be having a heart attack. Call 911 immediately.
Does SmartHeart® work on both Apple and Android phones and tablets?
Yes, SmartHeart works with both Apple and Android devices, and the SmartHeart Pro mobile application can be found in the Apple Store and Google Play Store.
Can family members and friends use my SmartHeart® device?
No, SmartHeart may only be used by the patient for whom the device is prescribed. The SmartHeart user will need to verify their identity in order to access a telemedicine consultation through the SmartHeart Pro mobile application with a board-certified cardiologist. 
Can I use SmartHeart® if I have had open-heart surgery or an implantable cardiac device?
Yes. Before performing an ECG, include a comment in the SmartHeart Pro mobile application that you have had prior open-heart surgery or that you have an implantable cardiac device. The cardiologist interpreting your ECG will consider this when completing their interpretation of your exam.
How long do the batteries last?
SmartHeart® uses two lithium AAA batteries, which will be supplied in your SmartHeart Kit. These batteries will perform about 100 EKGs or 6 hours of power.
How do I clean my SmartHeart® device?
Wipe the device using a soft cloth dampened with 70% rubbing alcohol or use the alcohol prep pads and wipes provided in the SmartHeart case. After cleaning, dry the device with a clean washcloth and leave to completely air dry for 10 minutes. Do NOT submerge the SmartHeart device in liquid or use household cleaning products.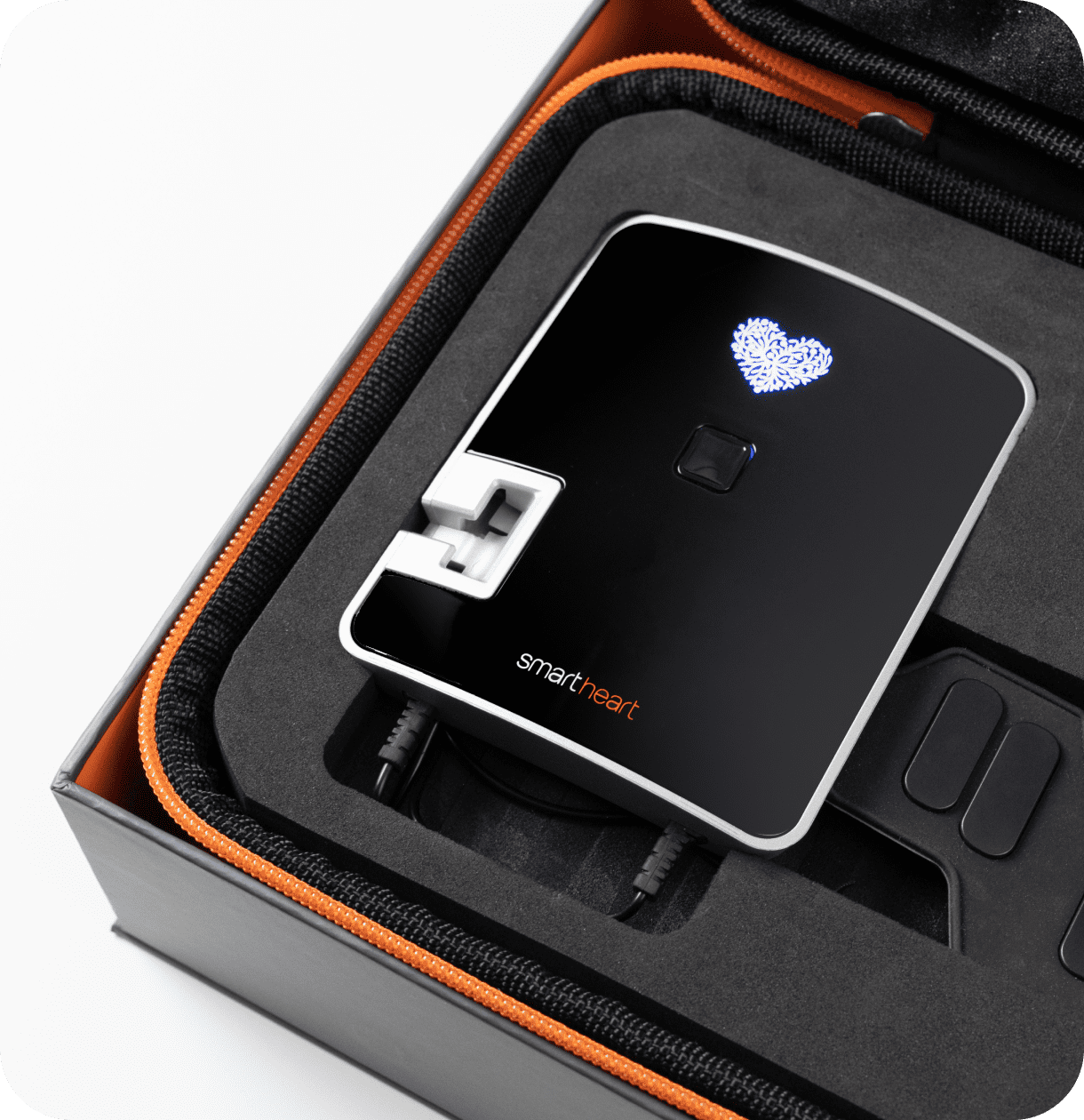 Discover SmartHeart®
Contact us to learn more about our innovative solutions and advanced telemedicine services.
Contact Us